Nuhanciam Anti-Dark Spot Power Factor 4
DESCRIPTION
This high-performance anti-dark spot serum visibly reduces the appearance of all pigmentation marks, including age spots and traces of hyperpigmentation remaining after skin trauma or injury, such as breakouts, scars and other lesions on the face and body.
Formulated with four active ingredients that act on four factors involved in the formation of dark spots, it provides targeted action to lighten dark spots, without depigmentation of the skin around them. The fine, silky texture sinks deep into the skin. Ideal for dark skin and phototypes III to VI, this excellent anti-dark spot serum is particularly effective.
This product contains 97% naturally derived ingredients.
HOW TO USE
For intensive corrective action, use the Serum morning and evening for 8 weeks. For maintenance care, continue using the Serum every day, morning or evening, or as intensive treatment one week per month.
Apply the equivalent of 2 to 3 drops to clean, dry skin on the face, neck and décolleté. Pay special attention to dark spots by gently tapping with your fingertips. The Serum's fine, smooth texture is absorbed into the skin, penetrating into the very heart of the cells.
INGREDIENTS
4 powerful complementary ingredients that correct the 4 main factors, which cause dark spots to form:
TEGO® PEP 4-EVEN decreases the action of inflammatory hormones on melanocytes,


X50 PURE COMPLEX associated with ALPHA-MELIGHT™ reduces the formation of melanin in the melanocytes,


NEUROLIGHT.61 G weakens the message that triggers melanin production and diminishes melanin migration from melanocytes to keratinocytes,


DELENTIGO™ breaks down melanin and lipofuscin (age pigment).
Uneven and flawed skin tones are regulated. Pigmentation spots are attenuated in both intensity and size, without removing color from the area around the spot. Unsightly imperfections caused by pimples and scars are attenuated, and age spots are reduced. Shadowed areas underneath the eyes become lighter, the complexion appears more even, radiant and fresh. The effectiveness of Serum Power Factor 4 was tested on phototypes III to VI, on post-inflammatory spots and age spots.

*Clinical study conducted under dermatological supervision for 56 days on 21 female subjects ages 26 to 59, with phototypes III to V (Fitzpatrick scale) and pigmentation spots on the face (induced by sun, acne or melasma). Application in the morning and evening.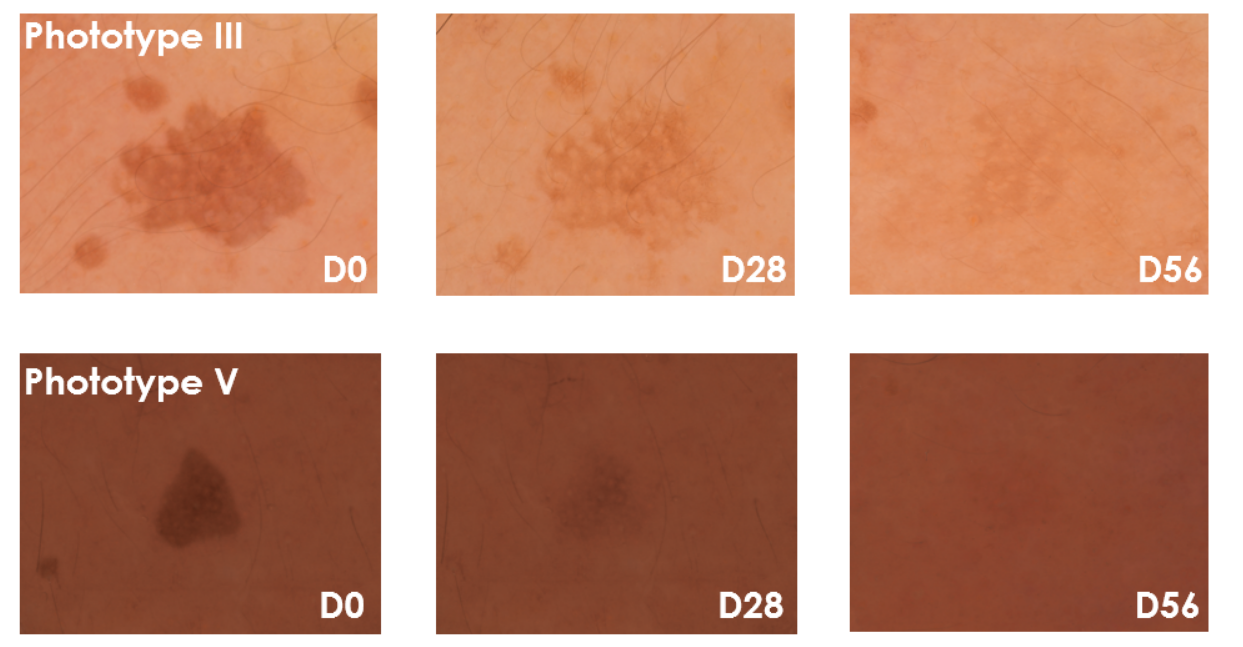 INGREDIENTS : AQUA (WATER), GLYCERIN, PROPANEDIOL, SODIUM POLYACRYLATE, BISABOLOL, BAKUCHIOL, POLYGLYCERYL-2 STEARATE, PHENETHYL ALCOHOL, GLYCERYL STEARATE, CAPRYLYL GLYCOL, STEARYL ALCOHOL, XANTHAN GUM, POLYSORBATE 80, ALCOHOL, UNDECYL ALCOHOL, ETHYLHEXYLGLYCERIN, PARFUM (FRAGRANCE), TOCOPHEROL, CITRIC ACID, LECITHIN, SODIUM PHYTATE, CARDIOSPERMUM HALICACABUM SEED EXTRACT, GLYCINE SOJA (SOYBEAN) OIL, PHENOXYETHANOL, PANCRATIUM MARITIMUM EXTRACT, TETRAPEPTIDE-30, SOY ISOFLAVONES, LEPIDIUM SATIVUM SPROUT EXTRACT, GLYCERYL CAPRYLATE, PHENYLPROPANOL, PALMITOYL SH-OCTAPEPTIDE-24 AMIDE, GLYCOLIC ACID, LACTIC ACID, POLYVINYL ALCOHOL, PALMITOYL SH-TRIPEPTIDE-5 NORISOLEUCYL SH-NONAPEPTIDE-1, COUMARIN, BENZYL BENZOATE, GERANIOL, CITRONELLOL, LINALOOL, LIMONENE.
The list of ingredients may be subject to change. We advise you to always check the ingredient list shown on the product purchased.